My Photo Gear
Ever, since I came across the website of Neil Turner and in particular this page, I wanted to do something similar. Nothing fancy really, but I liked the idea of presenting each piece of equipment with a detail aspect. On the weekend of March 17th, 2007 I finally took the time to take the initial shots. And then in December of 2015 I finally managed to update these page, in particular with new images.
Most of these picture were taken with a Canon G3 Powershot operating completely in manual mode. A Nikon SB25 flash was linked to the camera with a hotshoe-PC connector and positioned to the left of the camera. In between the flash and the object was a semi translucent white and very thin paper. The objects were placed in a diy macro studio.
The updated photos, I think they are recognisable, were taken with a 450D and lit with 4 constant LED lights with daylight colour temperature.
Canon 70D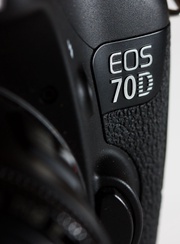 I came to this camera from the 350D originally featured here, via the 450D. For a short period I entertained the thought to switch to a mirror less camera system like the Fujis, the Olympus or Panasonic micro four third systems or even the Sony cameras. However then I would have to have traded all my existing Canon gear in, probably on Ebay and that is really a pain in the butt. So in the end I took the easy route and stayed with the Canon system. Although the 70D is a class above the cameras I would normally have sought out, I'm very happy with it, in particular since the dual pixel contrast based autofocus is now pretty speedy. This came in very handy when I digitized a whole bunch of slides from the inlaws.
Canon 24mm f2.8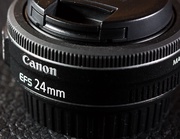 This is a very nice focal length, effectively 35mm on a full frame body, a typical focal length for street photography. Bought during a cash back promotion from Canon and as the 40mm in effect not much more expensive than 100€.
Canon 40mm f2.8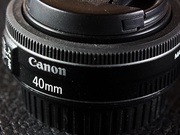 A former work colleague lend me this lens for a weekend, who uses it in connection with a Canon 6D. Due to its size I found this lens very interesting. With this installed on the camera you have a nice walk around combinations.
I bought this in combination with the 70D during a Canon cash back promotion. So, in effect it cost me a little more than 100€. The focal length is not so much different from the 50mm. These days I would prefer this lens over the 50mm. Anyway, I think it's optically superior to the 50mm.
Canon 50mm f1.8 II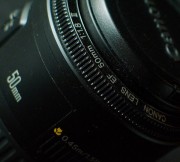 I bought this lens at the same time, when I bought the 350D. The reviews were raving about this lens providing a very good optical performance at a very affordable price. The lens cost me about 90 Euros. The build quality is not so hot, being build completely from plastic, but what can you expect for such a price. The 1.6 crop factor makes this a very good portrait lens with an effective focal length of 80mm. And it gives you quite a bit of headroom in low light situations.
Canon 85mm f1.8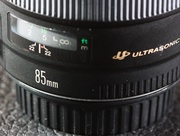 This is by far my most liked lens. The ideal portrait lens.
Canon 100mm f2.8 Macro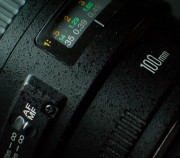 I had the opportunity to buy this very, very nice lens from a colleague at work. While this is first of all a macro lens it work just as well as a portrait lens allowing for more distance between you and the subject. Although this is not a L-lens (Canons line of lenses for professionals) the optical quality is definitely on par with L-lenses.
Tamron 17-50mm f2.8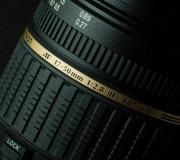 This lens replaced the EF-S 18-55mm f3.5-5.6 kit lens, which came with the camera. According to the reviews, which I've read this lens is nearly in the same area in terms of optical quality as the Canon 18-55mm f2.8 IS at about half the price, of course without image stabilisation. I did my own not very scientific comparison. The better optical quality compared to the kit lens is clearly visible. As an added bonus the Tamron lens comes with an lens hood. I'm pretty happy about this lens and it feels quite a bit more solid than the kit lens.
Canon 28-135mm f3.5-5.6 IS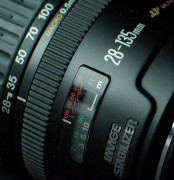 I bought this lens at the same time as the camera. The zoom range is pretty versatile, which is 45 to 216mm in terms of full frame SLRs and makes it a good walk around lens. And the image stabilisation was the thing, that intrigued me most in selecting this lens. However in retrospective I find, that I use this lens not quite as often as the other lenses. It may very well be, that this due to the fact, that I'm taking more pictures in doors and that the other lenses provide smaller f-stops for this.
Canon Speedlite 420EX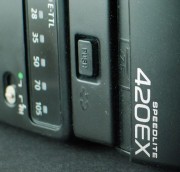 Not long after my purchase of the Canon Powershot G3 I bought the 420EX. Using the in camera flash of the point'n shots is simply messy (you know, red eye problem). I use the flash pretty frequently mostly with a bounce card, which is strapped to the flash with a some velcro tape. The Strobist has helped a lot to get a better handle on flash lighting. There is still much to learn and practice however.
Canon Speedlite 430EX II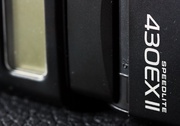 Since the 420EX Canon has continued to develop the speedlites. With the 70D the flashes can be remotely controlled by the on camera flash. However the 420EX was too old for all these newer features. Therefore a newer speedlite was required. Purchased in combination with 24mm pancake during that Canon cash back promotion.
In retrospect I've saved really quite a bit of money by purchasing during cash back promotions.
Canon Off Camera Cord 2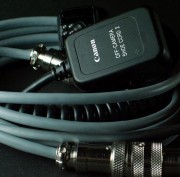 This is mainly a place holder for the other diy projects to improve my equipment. The original Off Camera Cord allows for roughly ½m off camera flash operation. I cut the cord into two pieces and put male and female connectors on both ends. In between is now a cable of 3m length also equipped with connectors. There is now much more leeway to operate the 420EX off camera. I've read about similar projects on the Web, which were advocating CAT5E cable. This is the cable used for 1GBit Ethernet connections. I think, this way over the top. I've used pretty simple shielded cable and haven't yet seen a problem. I've als build a number of simple 2 wire cables for the operation of the Nikon flashes. And last but not least I build a Macro Studio from 15mm copper pipes used for central heating system.
Nikon Speedlights SB-24 and SB-25
The flash for the serious Strobist. These flashes were build by Nikon around 1995⁄1996. They are so very useful, because they can be manually adjusted from full power to 1⁄16 for the SB-24 and from full power to 1⁄64 for the SB-25. They can be bought relatively cheaply from Ebay. However, the market in the US has pretty much dried up since David Hobby aka. Strobist is pimping these flashes. Not so here in Germany. I got my three Nikon flashes for prices ranging from 45 Euro to 55 Euro. I hadn't intended to have three of these, but I originally thought, that my first SB-24 was a bad apple. Luckily later this turned out to not be true, but I already had another SB-24 and a SB-25 in my possession. I'm mainly operating them via a self build optical trigger, which is capable to ignore the E-TTL pre flashes or alternatively via a hotshoe-PC adapter. I also build number of cables in the 5m range.
Metz 36CT2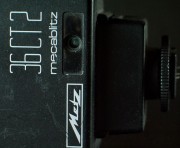 This flash must be more than 25 years old. I bought it second hand around the time, when my son was born and he is now 25 years old. This flash doesn't allow a manual setup. You have to fiddle with the film sensitivity and the aperture setting of the flash to regulate the light output. Therefore it is more useful in connection with umbrellas so that the sensor of the flash has a more or less constant area against which to measure.
Tripod and Ballhead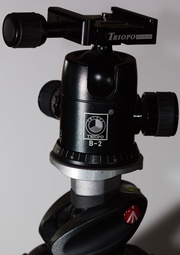 I'm using a Manfrotto 190XPROB tripod in combination with a Triopo B2 ball head. Overall I'm pretty satisfied with this combination. Much bang for the money. However in hint sight I would have probably preferred the 055XPROB from Manfrotto since I'm not doing any hiking anyway where the size of 055 would have been a problem. I'm using it mostly at home and on the few occasions I used the tripod while being outside the larger size of the 055 wouldn't have mattered.
In addition to this combination I purchased a cheapo L-Bracket from Amazon for easy changing the camera into portrait mode.
Stuff
I addition to the above listed stuff, I have a cheap light stand and an old tripod I also use primarily as a light stand. A white and a silver umbrella complete the lighting equipment.