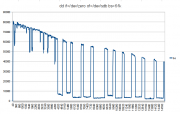 In preparation of sending the Samsung hard disk back to the dealer as a warranty issue, I cleared the whole disk with a "dd" command (dd if=/dev/zero of=/dev/sdb bs=64k). I monitored the process by running vmstat 10 in another terminal window. The resulting bo-column (block out) is reflected by the diagram to the right.
The whole operation took roughly 4 hours and 10 minutes. The drive operated at full for the first third, than things obviously got flaky. The same effect I saw with my file system copy operations. Large periods where the drive operates with only 4 — 6 Mb/s output rate.
Hopefully this will be prove enough for the dealer to replace the drive.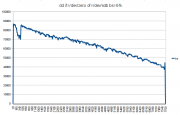 Update: In the meantime I've received a replacement drive. Just to see, if this drive was ok, I repeated the zeroing of the complete drive. I'm assuming, that the minor hiccup at the beginning doesn't mean any problems.