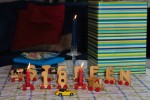 Der erste große Meilenstein ist erreicht. Sohni Steffen feiert heute seinen 18. Geburtstag.
All the very best to you.
Pünktlich zu diesem Datum war am Freitag der offizielle Führerschein in der Post. Und dann wurde mir heute Abend ganz anders, als die drei Kinder ohne uns Eltern im Auto unterwegs waren, um noch etwas zu holen, was die jüngste Tochter vergessen hatte.
Irgendwie fühle ich mich da doch alt.